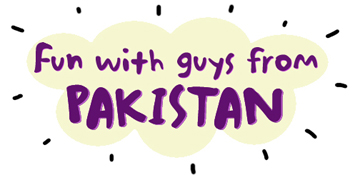 Mohammed Naveed
Mohammed is the first Pakistani who Se7ven began corresponding with. He enjoys playing chess and spending time with his family: his father, 2 brothers, and 6 sisters. Click on the link to the right to see the online scrapbook from their whirlwind weekend together.
Nauman Yaqoob
Nauman likes it when Se7ven sends him pornography, and he despises it when she takes more than 5 seconds to respond to his questions. Other than that, he's an all around nice guy. Be sure to check out the pictures of him with Se7ven in NYC.
Zeeshan Zafar
Zeeshan and Nauman work in the same office building, so there was a fair amount of jealousy and competition at hand. Zeeshan enjoys doing it from behind and asking Se7ven inappropriate, very personal questions. See what happened when he and she took to the mean streets of Rome.
Click on each gentleman's picture to visit their personal website!



As some of you may know, Se7ven gets weak in the knees at the thought of mugging down with a hot Pakistani. Read about what happened when she went on a month long dating spree with three of the hottest ones available, then cast your vote on who she should tie the knot with!
Cast your vote for who Se7ven should walk down the aisle with!
Send email to Se7ven@eville.net